Yamaha R3 Linear Spears Racing Steering Damper Kit Complete 2015/Current
Spears Racing has been on the cutting edge of making new products for the little commuter style bikes for decades, most of these products come from the motorcycle being used for something other than what it was intended to be use for…RACING!! this is why we have brought the Yamaha R3 Steering Damper Kit Complete 2015/current
Description
Spears Racing  has been on the cutting edge of making new products for the little commuter style bikes for decades, most of these products come from the motorcycle being used for something other than what it was intended to be use for…RACING!! this is why we have brought the Yamaha R3 Steering Damper Kit 2015/Current.
The kit will come with the Spears Racing's designed Steering Damper Mount Kit 2015/2021,  for the 2015/2018 Yamaha R3 or 2019/2021  damper-mount-kit-2019-2021.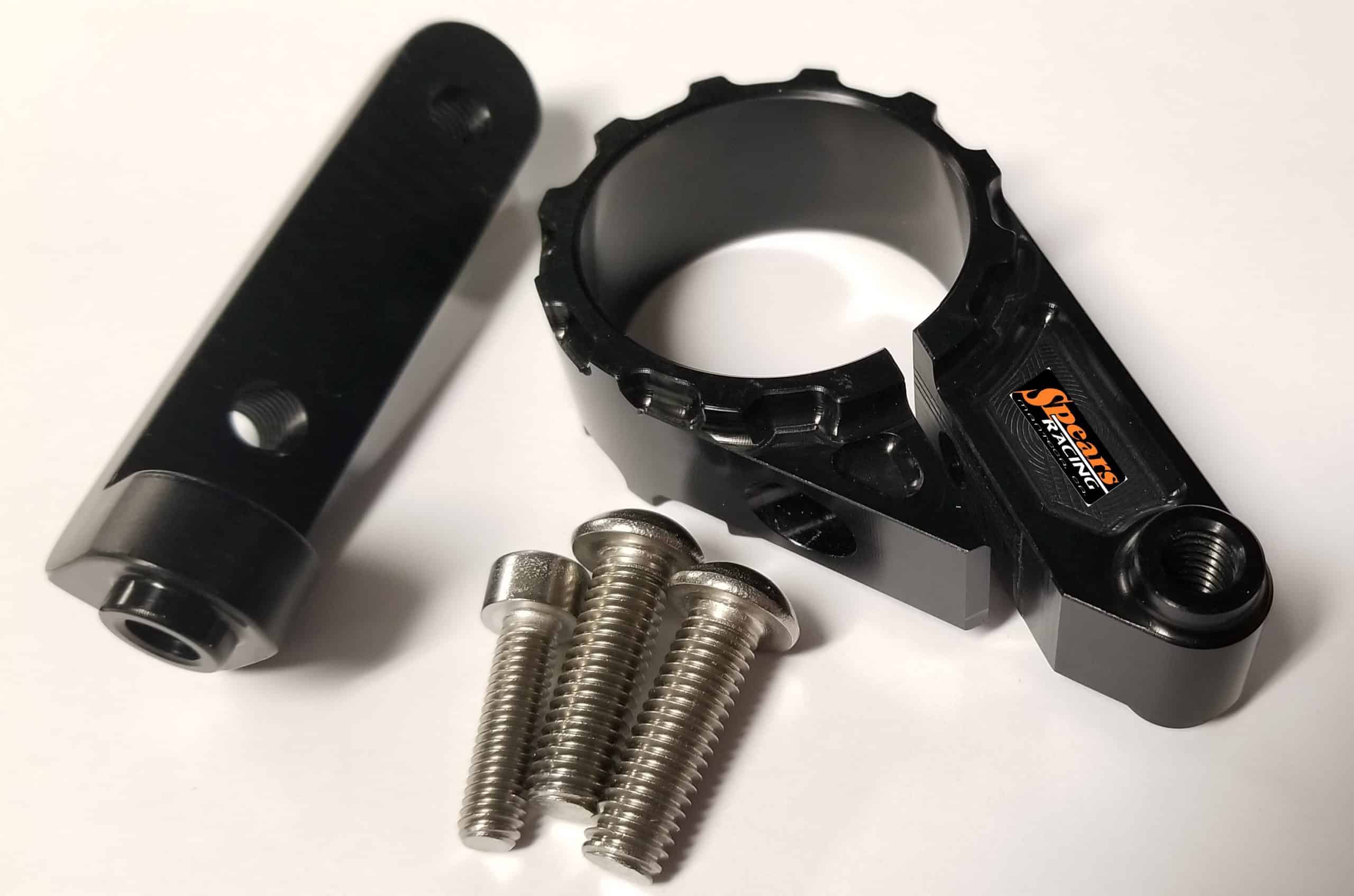 The difference is in the fork mount clamp inner diameter. The unit is "high precision machining" typically refers to machining parts with tolerances in the single-digit micron range. Machining parts with very tight tolerances are always a challenge, however the complexity of a job is determined not only by required tolerances, but also by the materials used and the number of features on the part.
The Mount is CNC machines from 6061 t-6 Aircraft grade Aluminum and has rounded corners for a more of an appealing appearance. After the machining is finished the product is anodized and also come with the correct fasteners and these fasteners are made from Stainless Steel to prevent any chance of corrosion. This damper mount does not requires the removal of the key switch. 
The kit will come with the Spears Racing steering damper which is the highest quality steering dampers available. The piston-style Linear style damper  (as opposed to rotary-style) was designed specifically with racers and street riders in mind. This damper is a must-have part for any performance oriented motorcycle. Stabilizes steering for more precise handling and minimizes the risk of a "tank slapper". Spears Racing damper is trusted and used by professionals at the highest levels of racing around the world.

And the last item and one of the most important we will offer in this kit is the Spears Racing  Aluminum Steering Stop. This item will assist in cutting down the "Total Area Of Movement" of the front end from side to side or lock to lock. If your installing the current damper kit onto your Yamaha R3 you will find that the damper set up is your new "Steering Stops" this is something that is not allowed by any racing organizations in the USA and around the world.