Water Pump Cover Protector Yamaha FZ/MT/R7
$69.99
A slim "sexy fit" cover that contours to the lines of the engine.
This covers are designed and engineered to bolt right on top of the OEM water pump/waterpipe impeller housing in minutes. It is designed to help prevent damage to the fragile OEM cover very thin OEM water pump housing during a crash or tip over. Installing this cover protector can be the difference between picking your bike up and riding away  or water/coolant from the cracked cover after a crash.
12 in stock
Description
Water Pump Cover Protector Yamaha FZ/MT/R7 CNC Aluminum pump protector Covers that fits several models and years of Yamaha FZ/MT/R7 engines. This engine cover is  engineered and made to a high specification from 6061 Aluminum billet using the latest CNC Technology. The pump cover is black anodized making them Strong, attractive, and resistant to mechanical or chemical wear.
Most motorcycle manufacturers equip their bikes with the lightest engine covers possible, typically they are cast aluminum/machined and truly offer  little to no protection in the event of a drop or crash. This Spears Racing cover will be the solution to this problem. This 2-piece engine covers are designed to keep your bike's vital fluids contained and outside contaminates out in the event of a crash, allowing you to get back out riding as soon as possible. Spears Racing covers are 100% precision CNC machined from 6061 billet aluminum to give you both great looks and exceptional strength.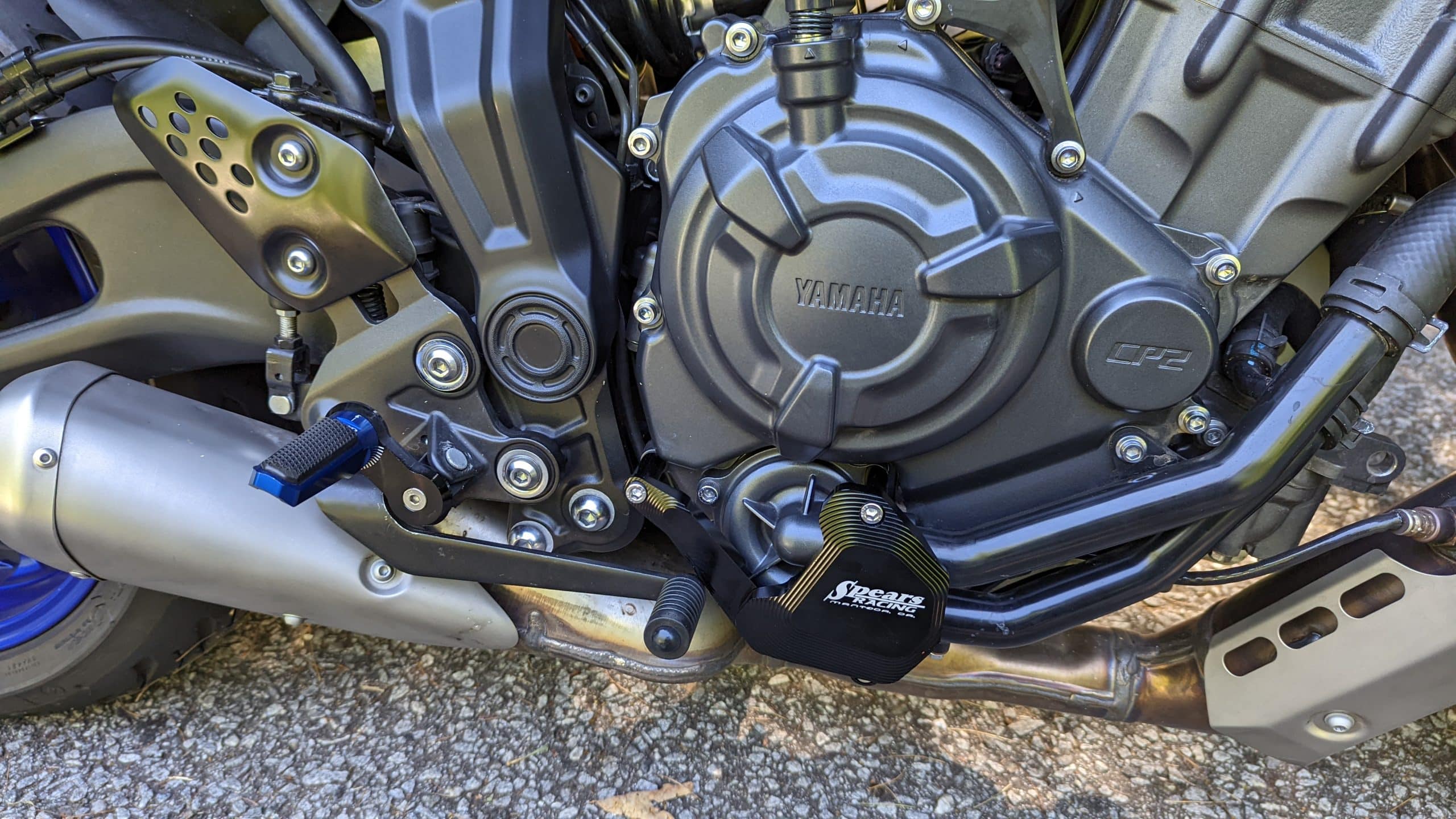 Spears Racing has been designing and making race products for decades, their continuous committed to excellence to advance as the industry changes. This commitment has resulted in more components specific to certain applications, proprietary products only manufactured for us. Each of these aspects has been put through stringent research and development stages to ensure that our product will exceed your standards.
Required and approved for most national and club racing leagues.
Water Pump Cover Protector Yamaha FZ/MT/R7 Features:
Lightweight 6061 billet aluminum
High resistance anodized finish
lasered Spears Racing Logo
Stainless steel skid pad offers the
Note: This protector installs over the OEM engine cover.