Kawasaki EX650/ER650 Overbore + 3mm Piston Kit 700cc
$649.99
10 in stock
Description
Kawasaki Ninja EX650/ER650 Overbore Piston Kit 700cc 13.5 to 1  Spears Racing has been designing and making race pistons with the State of the Art CNC Machining and manufacturing alliances with JE Pistons for decades.Spears Racing continuous committed to excellence to advance as the industry changes. This commitment has resulted in more forgings specific to certain applications, proprietary treated wrist pins and piston rings manufactured only for us. Each of these aspects has been put through stringent research and development stages to ensure that our product will exceed your standards.
At the forefront of performance, piston manufacturing has been a result of continuous research and development both in the dyno room and on the race track winning championships all over the world.
Utilizing State of the Art CNC machines for manufacturing, along with purpose-designed forgings, while being able to maintain exacting specifications on each and every piston – holding tolerances to millionths of an inch.This is the new forging that is lighter than stock OEM Pistons.
Gas Porting: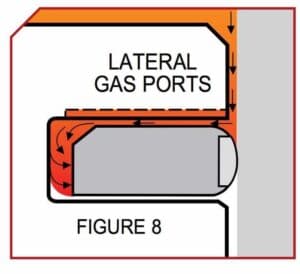 A more recent advancement in piston design is lateral (horizontal) gas ports as a standard feature on certain JE gas port (GP) pistons and an option on many others. This process places gas ports above top of the top ring land to provide combustion pressure access to the back side of the ring. Because these lateral holes are somewhat restricted by the small area above the top ring land, they are not quite as effective but are also not subject to clogging concerns.
Spears Racing Piston Kits have been winning races and Championships all over the world for over 4 decades.Spears Racing pistons have been in several of the race wins in close course racing and in road circuits in Europe and has won the Isle Of Man TT Twins several times.The most recent race win was in AFT Flat Track racing in the USA, 2017 Buffalo Chip Twins with Zanotti Racing
"Preferred Performance" Pistons Kits By Spears Racing
Kawasaki Ninja EX650/ER650 Overbore Piston Kit Includes the Following:
Horizontal (lateral) Gas Ports
Large Valve Pockets for 1mm over valves
Pistons x 2
Wrist Pins x 2
Piston Rings x 2
Oil Ring Support Rings x2
Cir Clips x 4
Ring Gap_Oil Support Rail Installation
SP700-Kaw-JE Guidelines with Information