What Is A Full Floating Brake Rotor
A floating disc is made up of two parts. An aluminum center carrier, which is mounted on to the hub of the wheel and a stainless steel rotor on which the brake pads apply pressure
Description
A floating disc is made up of two parts. An aluminum center carrier, which is mounted on to the hub of the wheel and a stainless steel rotor on which the brake pads apply pressure. The stainless steel rotor is affixed to the aluminum carrier with help of rivets. The setup allows the rotor to move axially to align with the brake pads, thereby allowing for optimum contact between both the surfaces. This optimum contact enable better braking and also increase the brake pad life by evenly distributing the heat generated.
The other advantage that such a setup offers is in terms of better manageability of thermal expansion. When a solid disc heats beyond a limit, it will start to warp, whereas floated disc has enough space and margin to allow for thermal expansion. All high performance braking systems now use a floating rotor design to these very advantages offered by them.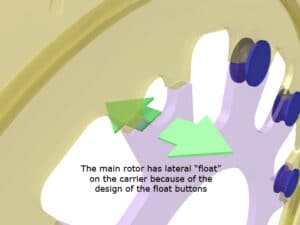 How a floating disc floats.
Technically all street based floating discs are actually semi-floating disc. A fully floated disc moves freely on the carrier. In fact, it can be pretty disconcerting to see a genuine fully floated disc as it has considerable lateral movement. The disadvantage of a fully floated disc is that it rattles and makes noise. For this reason, a spring is introduced in street going floating rotors, thus making them semi floating rotors. Fully floated disc are normally used in competition racing applications.
We identified a Brembo 300 mm floating disc for Ninja EX300 . Adhering to Newton"s second law of motion, the Brembo disc is 150 gms lighter than the Kawi disc. Installation was completely bolt on and the complete assembly took 15 minutes after checking the alignment of the mounts, etc.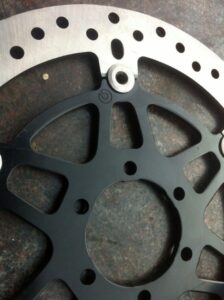 Brembo 300mm Floated Disc. Note the Brembo logo.
As the disc was new, the break pads needed to be bedded in gently to ensure that there is 100% contact with rotor surface area.