KAWASAKI NINJA EX400 SKF STAINLESS STEEL WHEEL BEARINGS FRONT/REAR 2018/CURRENT
$49.99 – $119.98
Since the speed of a motorcycle is most determined by the performance of its rotating parts, investing in SKF Stainless Steel Wheel Bearings is a logical choice for the serious rider. This also equals an almost zero risk of bearing seizure. The "Longevity of a well-built high-quality Steel bearing, in many cases
Description
Kawasaki Ninja 400 SKF Stainless Steel Wheel Bearings Front/Rear These stainless steel balls in their stainless races are single row deep groove ball bearing with seals on both sides, provide greater chemical and corrosion resistance. As with deep groove ball bearings generally, they are particularly versatile, have low friction and are optimized for low noise and low vibration, which enables high rotational speeds. They accommodate radial and axial loads in both directions, are easy to mount, and require less maintenance than other bearing types. The integral sealing can significantly prolong bearing service life because it keeps lubricant in the bearings and contaminants out When you combine this with the high tolerances for roundness you get a bearing that dramatically lowers vibration levels and produces more horsepower.
Kawasaki Ninja 400 SKF Stainless Steel Wheel Bearings Front/Rear unlike the current Kawasaki OEM bearings are made to a C3 Clearance and not manifactured in a third world country with less demands in perfection and more in the profit of the item,these SKF Wheel bearings will not allow any wheel vibration at the higher demands of your commuter motorcycle turned Race Bike.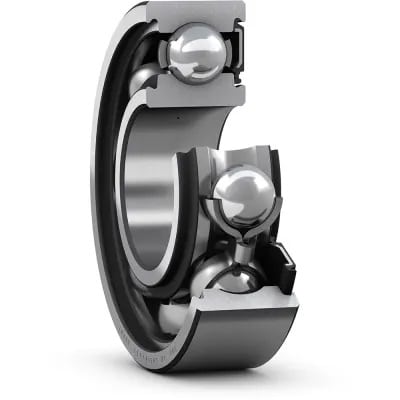 Since the speed of a motorcycle is most determined by the performance of its rotating parts, investing in SKF Stainless Steel Wheel Bearings is a logical choice for the serious rider. This also equals an almost zero risk of bearing seizure. The "Longevity of a well-built high-quality Steel bearing, in many cases, can be up to 10 times longer than commonly used stock bearings. The 'rule of thumb', as we like to call it when built well, and of high-quality materials.
Greater chemical and corrosion resistance,Integral sealing prolongs bearing service life and Typical benefits of single row deep groove ball bearings.