Yamaha YZF-R3 Cooling Kit 2015/current
$149.99 – $219.99
Spears Racing has seen so many little race bikes over the years get way hot and start to push their liquid out of their overflow tanks and this is not only a real mess for you, but dangerous for other racers.
Description
Yamaha YZF-R3 Cooling Kit is a set of products that Spears Racing feels is an addition to keeping your motorcycle engine protected and cooler in the most extreme conditions you will come across.This is a ongoing challenge for most of the motorcycle racers, but remember we are dealing with a commuter style motorcycle that was designed on a budget and its intentions were to do a few miles a day.
Most of us will take the current Yamaha YZF-R3, an add so much thought and time into the suspension,engine's power and braking systems, yes these are important upgrade,but a lot of time we will over look the protection of the bikes cooling system.
Spears Racing has seen so many little race bikes over the years get way hot and start to push their liquid out of their overflow tanks and this is not only a real mess for you, but dangerous for other racers,and will pull SO MUCH POWER AWAY FROM THE ENGINE.
This  Yamaha YZF-R3 Cooling Kit offered by Spears Racing includes the best items that will assist you in keeping your cooling system protected and cooler.
Samco Hose Kit:
Handmade in the UK includes a Lifetime Warranty, ensuring you have the highest quality cooling products fitted to your bike and have been race proven around the world as the #1 choice of many racing teams in series such as Formula One, NASCAR, MotoGP and World Super Bike. Samco hoses can withstand higher operating temperatures and pressures than OEM hoses. Their innovative shape, design and the insulating properties of silicone means that running temperatures can be reduced by up to 9 degrees Fahrenheit, making your bike run cooler. Every hose is manufactured with a special SamTek inner lining that delivers outstanding resistance in the harshest environments and you don't want your hoses to let you down.
Samco Hose Clamps:
Samco Hose Clamp Kit hose which replaces your standard factory hose clamps with the highest quality stainless steel worm drive hose clamps available.These hose clamps are entirely made from marine-grade 304 W5 stainless steel and have a 13mm wide band which increases their clamping force. Greatest performance when fitted with your Samco Sport silicone hose kit.
Note: Optional Samco hose clamps are required for the Samco lifetime warranty
High Pressure Radiator Caps:
Spears Racing High Pressure 1.6 Radiator caps is the simplest and the most inexpensive way to avoid boiling your engine, especially important on over-stressed Lightweight Race bikes cooling systems, simply Pitch the stock 1.1 kg/cm2 radiator cap for a 1.6 Radiator caps. While raising your cooling system's maximum operating pressure does raise your cooling system's boiling point and therefore helps to avoid boil-over, it does not lower the engine's operating temperature prior to boil-over. It simply allows your engine to continue to operate at temperatures higher than it is engineered for.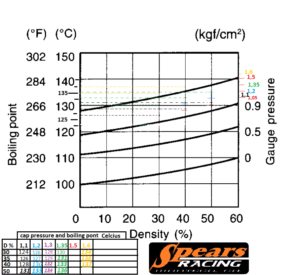 Water boils at 212 degrees, and for each pound you raise the system pressure, it raises the boiling point 3 degrees. A 1.1 kg/cm2 cap converts to 15.9 psi. Most race bikes use 1.6 kg/cm2 caps (which is 22.75) and should  fit on any Japanese radiator.
 RADIATOR GUARD:
The guard is CNC machined from aircraft quality aluminum. Finished in durable black powder coating, this radiator guard kit includes hardware and easy to follow instructions.
Superior quality and easy to install. It improves the looks of your bike and help to protect your expensive and vulnerable radiator from flying debris. The radiator is well positioned for the on rushing air stream,
Each guard is shaped & designed to flex perfectly into the radiators side gutters- very easy to fit!
Radiator Grille Guard Cover will providing maximum protection from road debris. Diversion hole assisted cooling.Easy to clean and/or detach for a thorough removal and debris. The guards are quality aluminum and finished in a durable black powder coating. It is deserve to buy it. Motorcycle radiator protection has never looked as good!
Spears Racing Radiator guards and used around the world, from street riders, trackday riders and racers.
WEIGHT:150 G / 5.29 OZ.
YAMAHA YZF-R3 RADIATOR GUARD KIT CONTAINS:
1 pc. Spears Racing Radiator Grille Guard
1 pc Rubber cushion strip