Magura HC3 15mm Radial Front Brake Master Cylinder Gold/Black
$749.99 – $799.99
MASTER CYLINDER COMES READY TO INSTALL AND DELIVERY INCLUDES:
• 3-way lever ratio (mimics ±1mm hydraulic ratio adjustment)
• Banjo connector with sealing rings
• Remote reservoir
• Standard clamp (without mirror mount)
• Pre-installed switch (for brake)
• Abe (German TÜV approval) for 15 mm  brake master
• Owner's manual
Description
Magura HC3 Master Cylinder 15mm

Where professional quality is a must, there is quite simply no alternative to the Magura HC3 Master Cylinder . Weight, performance, ergonomics and control – these criteria have been been ingrained into the HC3's development. The overall performance of the HC3 exceeds the most demanding requirements. High-quality aluminum is the basic material used in the construction of the HC3. The master cylinder is fully machined from solid aluminum – and it's this production process that unifies the qualities of extreme rigidity and ultra-low weight for this ABS-compatible fitment.
MAGURA uses its patented HCT (hard core technology), which was developed in-house. Until now, this innovative technology has only been part of another product, which is mainly used by motorcycle racing fans and discerning customization aficionados. Now ready at the starting line, the new HC3 is the brake  that not only offers the unique HCT design and material advantages, but also targets motorcyclists who put the emphasis on comfort and safety. With a  noticeable improvement in motorcycle performance. The pressure point is so full and so perfectly defined, you'll think your fingers are part of the brake or clutch system. The HC3 makes "lack of feel" a thing of the past. So if you want to go the extra mile when it comes to top riding dynamics, safety and comfort, this upgrade is really for you. The radial master cylinder makes a huge impression with its fine technology and wonderful ergonomics.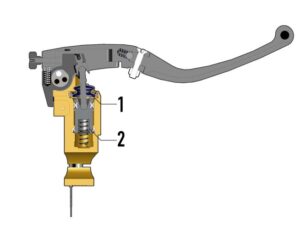 The HC3's actuator seal (1) is designed to prevent air, water, and debris from entering the master cylinder. The piston (2) uses a stationary main seal set into the master cylinder body
The HC3 mastercylinder is used by professional racers and teams all over the world. noted for it consistency in front brake pressure and feel give the riders more confidence