Magura HC1 15mm Radial Master Cylinder Brake
MAGURA uses its patented HCT (hard core technology), which was developed in-house.
1 in stock
Description
Magura HC1 15mm Mastercylinder uses its patented HCT (hard core technology), which was developed in-house. Until now, this innovative technology has only been part of another product, which is mainly used by motorcycle racing fans and discerning customization aficionados. Now ready at the starting line, the new HC1 is the brake and clutch master that not only offers the unique HCT design and material advantages, but also targets motorcyclists who put the emphasis on comfort and safety.
With a  noticeable improvement in motorcycle performance. The pressure point is so full and so perfectly defined, you'll think your fingers are part of the brake or clutch system.
The Magura HC1 15mm Mastercylinder makes "lack of feel" a thing of the past. So if you want to go the extra mile when it comes to top riding dynamics, safety and comfort, this upgrade is really for you. The radial master cylinder makes a huge impression with its fine technology and wonderful ergonomics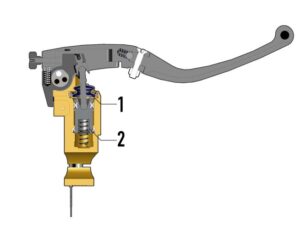 The HC1's actuator seal (1) is designed to prevent air, water, and debris from entering the master cylinder. The piston (2) uses a stationary main seal set into the master cylinder body
70 degree Full Radial Design – pushrod and cylinder at an right angle to the handlebar results in decreased friction and more direct feel at the lever for improved controlled braking.
Full ABS Compatibility – MAGURA HCT is approved for continuous use with all ABS systems without loss of performance due to pressure compensation 'ABS Kickback'
Advanced Secondary Seal Technology – The rear piston seal has been specially designed to prevent the intrusion of air through secondary seal ingress.
The advanced X-Ring seal design will eliminate this problem common on race bikes at higher speeds.
Reservoir and Mounting Bracket – The master cylinder is supplied with an external brake fluid reservoir and mounting bracket.
Brake Light Switch – Pre installed brake or clutch switch and cable are included
German Made and German TUV Approval