Kawasaki Ninja EX400 Lacomoto Race Bodywork Kit 2018/Current
$1,199.99 – $1,289.99
Most of the other bodywork companies only worry about building their product cheap to allow the cost to be the same, Lacomoto Prides their kits to be Perfect, Light and stylish
INSTALLATION WILL NOT REQUIRE ANY MODIFICATIONS/CUTTING OF THE KAWASAKI OEM SUB-FRAME  TO FIT LIKE MOST OF THE OTHER BODY KITS ON THE MARKET
Description
This Lacomoto Kawasaki Ninja 400 Race Bodywork Kit is a "True Race Kit"  This Kit weighs between  3.75kg-4.15kg 8.26LBS-9.149184 LBS  compared to the other body work companies that weight twice as much. Lacomoto body kits can be found at all of the higher end world racing teams Moto2 ,Moto3 ,BSB and MotoAmerica.
Most of the other bodywork companies only worry about building their product cheap to allow the cost to be the same, Lacomoto Prides their kits to be Perfect, Light and stylish.
Lacomoto Kawasaki 400cc kit WILL NOT REQUIRE ANY MODIFICATIONS/CUTTING OF THE KAWASAKI OEM SUB-FRAME  TO FIT LIKE MOST OF THE OTHER BODY KITS ON THE MARKET
You now have the option to select a Clear Double height Windscreen or Smoked Standard height Windscreen.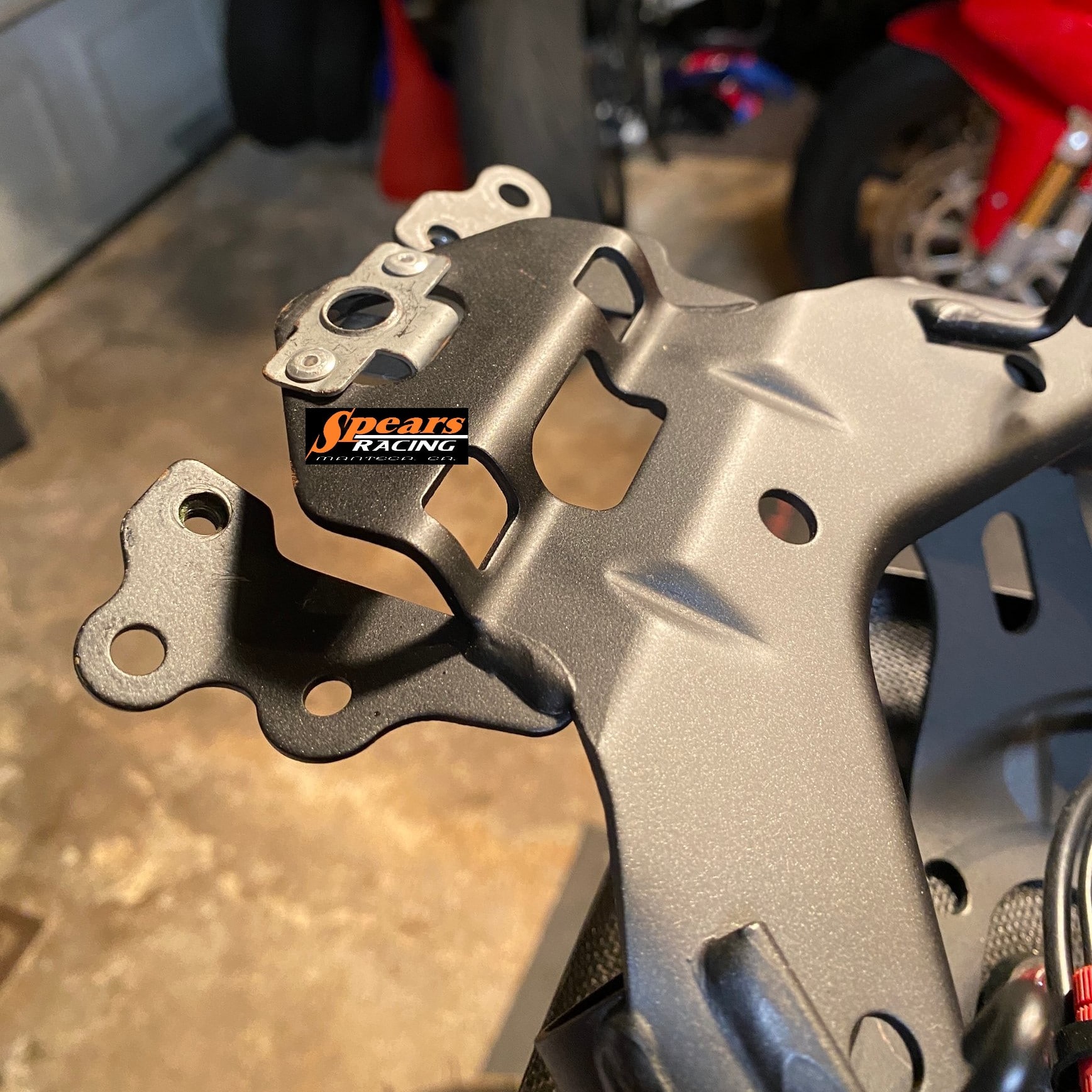 Tail section Clip installed
Lacomoto Race Bodywork Kit is hand made in Portugal by very skilled craftsman and this is why they are the product of choice by so many professional race teams around the world.The product is simply one of the best and this is why Spears Racing has decided to import this brand.
Lacomoto's all new Kawasaki Ninja EX400 race bodywork
Includes considerably reinforced upper, tail section and belly pan.
Lacomoto Race bodywork Kit is exceptionally engineered and is extremely light, while remaining remarkably strong and flexible. All hardware mounting points are pre-drilled and all stress and mount areas are reinforced with carbon fiber. Kits come finished in a black gelcoat ,white gelcoat upon pre payment.
This kit allows you to retain your OEM windscreen, or use most aftermarket units.
DOES NOT COME WITH FRONT FENDER
Kit includes:
11 Pieces
– Nose/Upper
– Side Panels (2)
– Side Panels Secondary (2)
– Belly Pan
– Tail
– Undertail Tail
– Seat Foam/Pad
– Seat Brace
-Belly Pan Hole Plug
– All Hardware
Lacomoto Kawasaki Ninja 400 Race Bodywork Kit Features:
Kit weighs between 3.75kg-4.15kg
Fairings are pre-drilled and come fitted with Dzus fasteners
Complete kits come with the seat foam
Carbon/Kevlar reinforcement at mounting points
Finished in black gel coat ready for painting