DOMINO XM2 ADJUSTABLE RACE THROTTLE KIT – Yamaha R7 2022/Current
$169.99 – $389.97
Spears Racing along with Domino Racing in Italy have brought the Yamaha R7 throttle controls kits to the USA. The New Throttle Control kit are all built according to the most modern production processes, solid, robust and very precise, they are the right choice as a spare part or as an upgrade to the oem throttle control of your bike
Customize to pick your grip color
Description
The Domino XM2 Adjustable Race Throttle Kit Yamaha R7 has several different size reels that will change how much twist is necessary for the throttle to completely open the throttle bodies on your motorcycle. The larger the reel is, the shorter the twist. Each reel size will shorten the twist by about 10 degrees. If your stock throttle has a 40mm reel and stock twist is 90 degrees (1/4 turn), White ring stroke: 36 mm., Green ring stroke: 33 mm  and the Red ring stroke: 25 mm. one of these reels will be the  "best for your needs"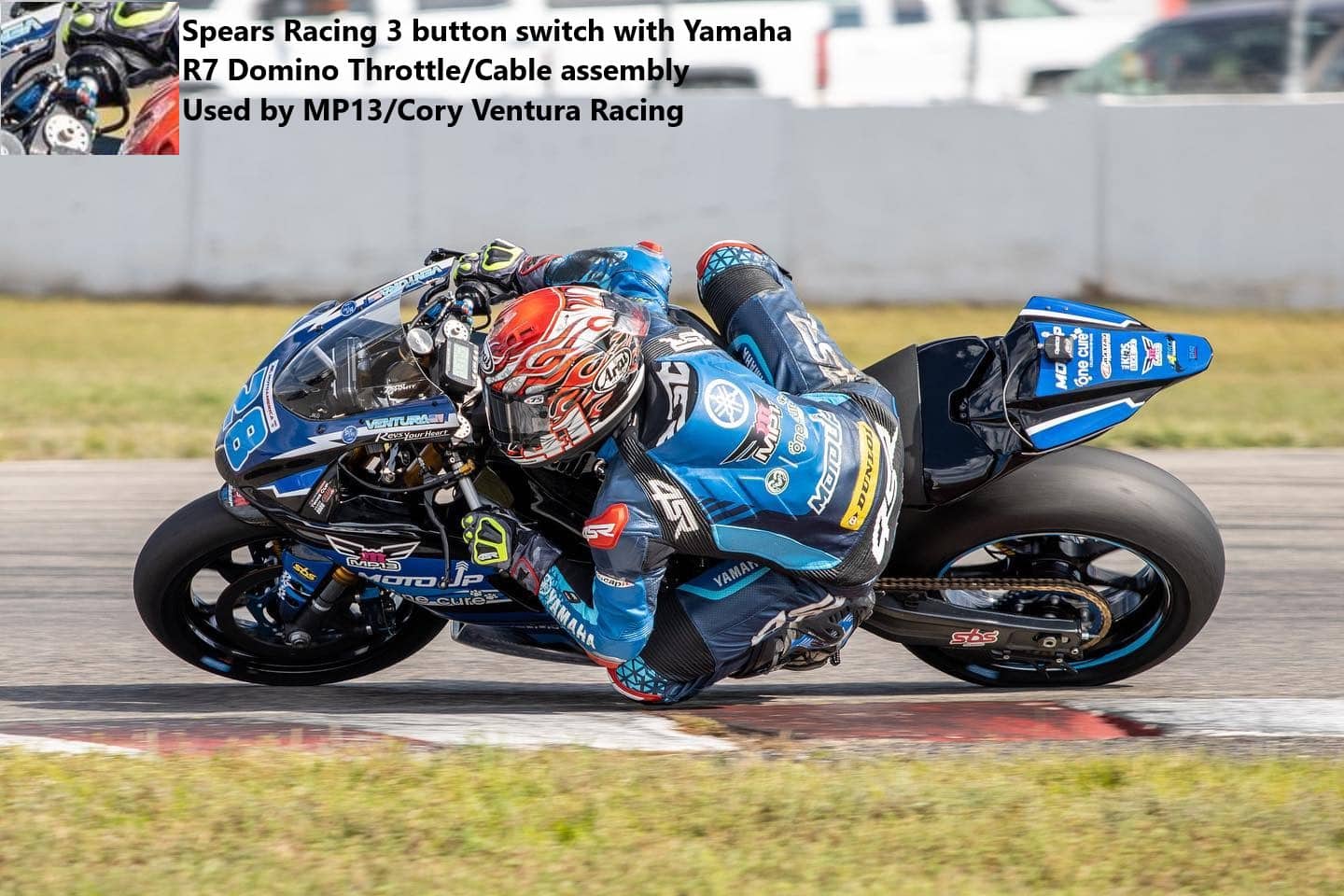 The included cam reel has a profile that allows the throttle to act like a sensitive, long twist throttle during the initial small throttle openings for precise control and then acts like a more aggressive short twist throttle at large throttle openings, progressively shortening the amount of twist needed to reach full throttle. kit will work with the OEM throttle return spring, but we highly recommend using our softer throttle return spring for a much softer, smoother throttle action when using the shorter cams.
The Domino throttle controls are all built according to the most modern production processes, solid, robust and very precise, they are the right choice as a spare part or as an upgrade to the oem throttle control of your bike. The kit is supplied with Domino throttle cables necessary for mounting the Domino XM2 throttle controls. The Domino Race throttle kit is a high quality kit that includes 3 different cams for throttle adjustment.
Domino XM2 Adjustable Race Throttle Kit Yamaha R7  Technical features:
With throttle cables for: Yamaha R7 2022
MotoGP grips Black/Red, Black/Green, Black/Orange will be supplied (Your Choice)
Also available with the 29m and 32m Renthal Road Race Grips (Your Choice)
Support material: Aluminum
Support finish: Painted
Paint color: Black
Red ring quickness: 2,7 degrees/mm
Red ring stroke: 25 mm
White ring quickness:2,6 degrees/mm
White ring stroke: 36 mm
Green ring quickness: 2,9 degrees/mm
Green ring stroke: 33 mm
The Yamaha R7 Domino Throttle Kit is compatible with aftermarket radial master cylinders such as Accossato, Brembo.
*This kit is for closed course use only and Only for Aftermarket Clip-ons*
Integrated Keyswitch Elimination Harness/Bypass Start Stop Switch
Spears Racing along with APX Racing USA have come together to create this new CNC Aluminum Start-Stop Switch Integrated Keyswitch Elimination Harness/ bypass start stop switch for the Yamaha R7.The housing is a Military Grade 6061 aluminum machined with fine details ,with rolled threads to allow more torque/tightening to your clip on with a black hard anodized finish.
The two button switch is made with the worlds best products, starting with the premium Hall effect gold plated contact surfaces domed shaped buttons manufactured in the United Stated by Otto Engineering. These switch units will come with Titanium fasteners for lightness and anti corrosion.
The CNC Aluminum Start-Stop Switch is a direct plug in to your OEM wiring harness, this switch will replace your current ignition key switch and the OEM right handed control housing .This encapsulated waterproof switch is epoxied and equipped with Military spec wire to minimize potential vibration and harsh environments- water- dirt- and dust.
A must have if you are upgrading your throttle housing to a quick turn throttle. From the factory bike which has a combined throttle and switch housing. Therefore replacement of throttle housing necessitates replacement of the switch. This setup saves room on the handlebar and is much more resilient and durable in case of a crash.
DOMINO MOTOGP GRIPS
The MotoGP grip is designed purely for road race competition. This unique grip is a 2 color, dual compound system. The inner grip is a firm compound, while the outer is soft. Together, they provide a soft feel at the palm with a progressive firmness – not a soft spongy feel common on many grips. This grip has been proven on the some of the fastest MotoGP teams.
FEATURES:
The MotoGP grips are 126mm (open ends) and work with most of our street throttle tubes.
Dual compound grip designed with hard and soft compounds for road race conditions
Dimpled pattern for sure grip and lasting comfort
Used by more MotoGP teams than any other grip
126mm (5") grips are
made in Italy
Pairs for 7/8" handlebar with twist throttle
RENTHAL ROAD DUAL COMPOUND GRIPS (LARGE 32MM O/D/STANDARD 29MM O/D)
Renthal Road Dual 32m /29m (outside Diameter)Combines the durability of Renthal® firm compound grips with the feel and absorption qualities of the Renthal Road Dual 32m/29m range of softer compound grips. Firm compound is used for the flange, inner sleeve and outer end of the grip for maximum durability, softer compound is used for the outer diameter of the grip, which is in direct contact with the palm, fingers and thumb.