415 Lightweight Rear Drive Sprocket
$79.99
415 Rear Sprocket is Machined not Stamped  from the highest grade aerospace quality 7075-T651 aluminum and weighs                (9.64 oz./274g depending on tooth count)
Description
Spears Racing 415 Lightweight Sprocket is engineered to withstand the constant abuse given to an aluminum rear sprocket, machined from the highest grade aerospace quality 7075-T651 aluminum and weighs (9.64 oz./274g depending on tooth count)  not like the other 415 rear sprockets on the market it is  machined and it is not stamped.
Being that it is machined you need not to worry about it being " True to the alignment" of your chain and front sprocket (no wobble).
These sprockets have been on championship winning teams, Ben and Jake LcClair 2018 and 2019 CSBK Lightweight Sportbike Champions. Eunan McGlinchey 2018 BSB Junior Supersport Champion with Team#109 and most of the MotoAmerica Junior Cup race teams run the Spears Racing sprockets as well.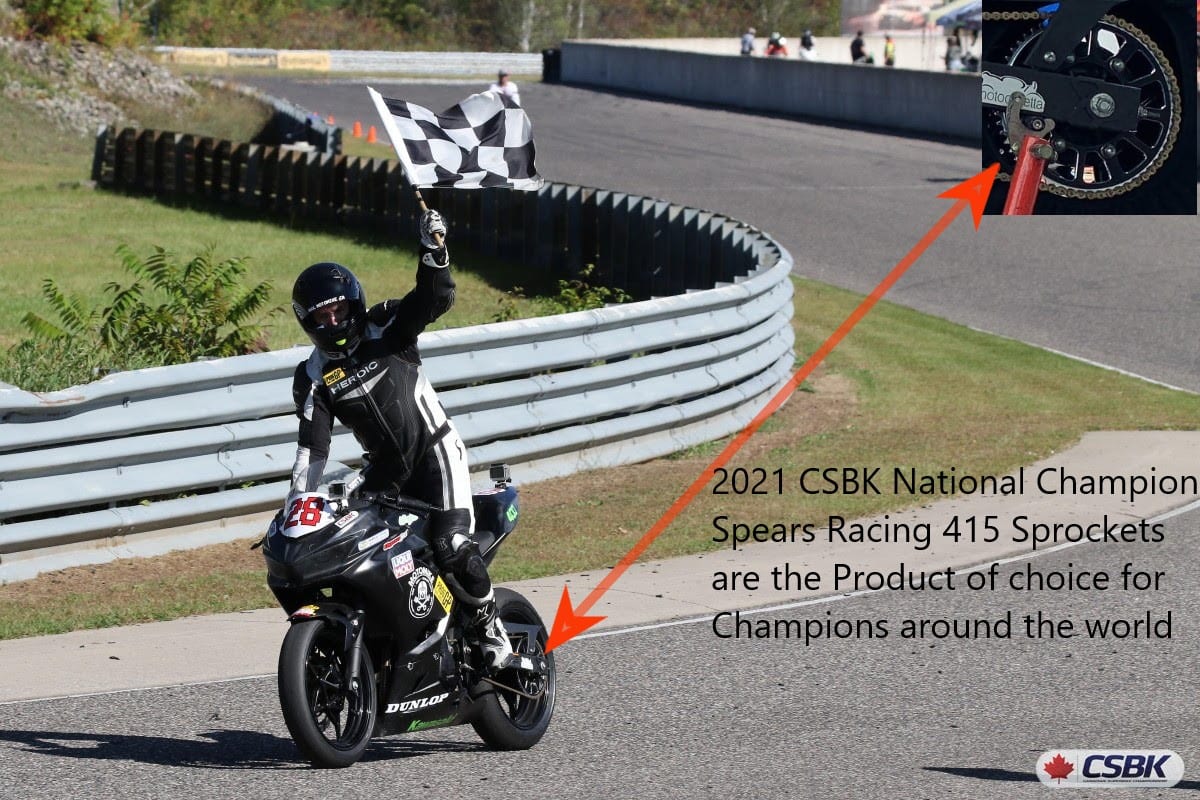 Spears Racing has been on the cutting edge of making new products for the little commuter style bikes for decades, most of these products come from the motorcycle being used for something other than what it was intended to be use for…RACING!
If you race Kawasaki Ninja 250,300,400 or  Yamaha R3  then you need to be on a 415 Lightweight Sprocket
This Performance mods are vital to all small bikes on the Race Track.   These 415 pitch chain kits are lighter and Narrower (don't put a 520 on your race machine) You want less rotational weight!
These Sprocket are used  by several WSS300, BSB JuniorSS, MotoAmerica Junior Cup and  2021 CSBK Lightweight champ Harvey Renaud was running our 415 sprockets on his 2019 ninja 400 built by MotoMike , and set lap records at Calabogie in qualifying raced his way to the #1 plate
Spears Racing has been designing and making race products for decades, their continuous committed to excellence to advance as the industry changes. This commitment has resulted in more components specific to certain applications, proprietary products only manufactured for us. Each of these aspects has been put through stringent research and development stages to ensure that our product will exceed your standards.
 *** Lightest Machined Rear 415 Sprocket on the Market***
                                            ***Made in the USA ***