Febur was born in 1996 from the union between the experience of the Bursi trainer Gianfrancesco and the motorcycling passion of the brothers Fabrizio and Fabio Ferri with the aim of becoming the reference point for two-wheel enthusiasts and professionals. The continuous development of products led, in 2000, to the Febur Radiators project, which resulted in collaboration with world-class riders and teams and countless conquests of SUPERBIKE, SUPERSPORT, SUPERSTOCK, CIV AND MXGP titles.
In 2010, after a long journey, Bursi Gianfrancesco left the company, and the Ferri brothers tried to maintain the same professionalism that has led them to continuous success and the building of lasting relationships of trust with their customers. In addition to the products of its design and production, Febur is the exclusive agent of some of the best motorcycle accessories brands on the market.
In the more than 400 square meters of exhibition at our headquarters in S. Giorgio (MN), the most demanding motorcyclist can find all the best on the market, in order to customize their bike. All this has led our Staff to be a winning team, with 20 years of passion, experience and reliability on the world market.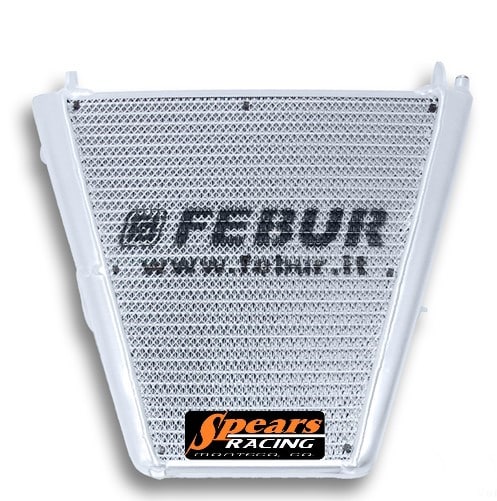 Our aluminum radiators greatly decrease the temperature thanks to the larger surface, quality of the materials and careful study and design with the best world racing teams to achieve the best performance; consider that at high temperature the engine lose power, moreover with our radiators the temperature remain steady and without sudden changes.
Our Teams: Puccetti racing team, Barni racing team, Moriwaki racing, Team Go Eleven, Orelac racing team, Improve racing team, Ktm rac cup, Team Redmoto, Mv agusta reparto corse, Motocorse racing team, Team Motoxracing, Team Factory vamag, Team Green speed, Broncos racing team, Yamaha R1 Cup, Garibaldi racing team, Team honda tenkate, Pedercini racing team, Tyco bmw raing team, Grt racing team, Team sert suzuki endurance.
Showing all 2 results